Children's Lessons
I teach children of all levels of ability from age 5 and up.  Lessons are at my home, five minutes south of Greytown in South Wairarapa.
Lesson Approach
Lessons are tailored based on the age and ability of the child.
They include plenty of piano playing, as well as games and activities away from the piano to help reinforce concepts in different fun ways.
Though I have a classical music background, I work with other styles of music in beginner/intermediate lessons.  This includes pop chord progressions, lead sheets, simple blues, improvisation and composition.  In this way, students get to experience a wide range of musical styles, be creative and find out what resonates with them musically.
Lesson Options
Lessons are either private individual lessons or shared lessons, where part of the lesson is shared with a friend of a similar level and ability.
Private individual lessons have three recommended lengths:
- 30 minutes - for beginners and 5 and 6 year olds
- 45 minutes - for beginners and students who have been studying up to 4 years
- 60 minutes - for advanced students studying for exams (Grade 5 and above)
Shared lessons are 40 minute lessons (learn with a friend): 
Each child has a 20 minute individual lesson with a shared 20 minute session in the middle.  So one child will start with an individual lesson and finish with the shared session, while the other child's lesson will be the other way round.   
The shared part of the lesson covers activities such as duo playing, shared improvisation, musical games and theory exercises. 
Shared lessons are currently for beginners and students who have been studying less than 4 years.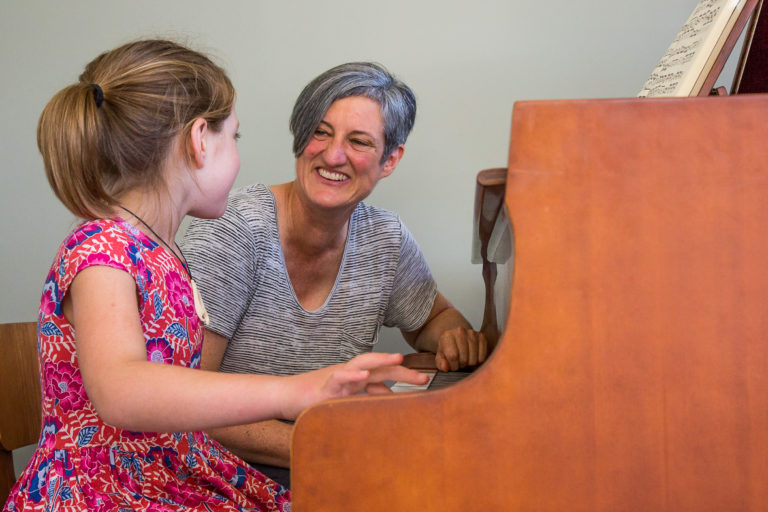 Practicing
Daily practice (or near daily) is a key part of learning to play the piano.
Regular practice is where the magic happens - things that were once thought to be impossible, become possible. Progress is made and the rewards are huge!
Parents can help out with this by creating a daily routine and helping the student stick to it.
What will I need at home?
You will need the following at home so your child can practise between lessons:
An acoustic or 88 key digital piano.  A 75 key touch sensitive keyboard can be sufficient if your child is just starting out and deciding if piano lessons are for them.
A piano stool (adjustable stools are available) or a seat at the right height and a stable stand if a keyboard or digital piano is used.
Young children may need a foot rest if they can't reach the ground
A place to put the piano where it is possible to practise undisturbed
Find out more about ACOUSTIC PIANOS, DIGITAL PIANOS and KEYBOARDS.